23 Years Of LIVE Auctions!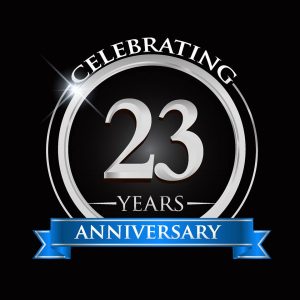 Here we go…another anniversary auction, July 27th….23 years!
Some of you may have attended that very first auction, in the Bond Head Community Centre, for what seems like a very long time ago!

I had an antique store from 1984-1994, and after the property was sold, I spent two years working with a local auctioneer, learning some of the ins and outs of the auction business.
Having a store, naturally I was used to attending auctions as a buyer. In fact, I figured out I probably attended in excess of 1500 auctions, before I started my own auction business. However, now was the time to learn about the selling side of the auction business!
The first auction in Bond Head consisted mostly of my own pieces, and consignments from a few friends.
Yes, I was nervous, and the day before the auction I was looking for any excuse to cancel (getting hit by a truck may have worked), but I went ahead with it, and it worked out ok! I can't remember a lot of the auction, but I got through it, covered my expenses, and made a little money!
Since that day, I've gone on to sell over 150,000 pieces, and have certainly seen a huge change in the marketplace.
I look back on some of the auction results from that time, and only wish we could get those prices now on some of those pieces! However, 23 years ago I would get $2 for pieces that sell for $100 now, and I can't even remember selling any old signs! What I would have considered "junk" back then, are the same pieces I can't get enough of now.
So naturally the market has changed over the 23 years, and auctions have changed. The biggest innovation has been the internet. Live auctions are getting fewer, and on-line auctions have exploded.
I prefer doing live auctions, and hopefully will continue for the rest of my career. There are challenges to doing a live auction. Finding an appropriate hall is the biggest challenge, and although I have been very fortunate to have the Pottageville location for the last several years, there is uncertainty about the future of that location. However, I will continue for as long as I can, because LIVE auctions are what I LOVE doing!
The one consistent factor over the 23 years, has been the incredible staff I have. Some have been with me since the very first auction. Mom clerked for me for 22 years, and although she is not able to clerk anymore, she still assists with the auction setup. David & Carol Beasley have been with me since day one, providing auction setup, cashiering and registration, clerking and auctioneering services. My sister Kris and brother in law Gerry have always provided the food booth. Don Garner has been doing auction setup and auction handling for over 15 years now, and Donnie will be turning 86 in September! Charlie McAteer has been doing pickups, auction setup and handling for over 10 years now with me. Lisa Ferrie joined us about 4 years ago for auction setup, handling and clerking, and Rick Osborne became part of the team three years ago. Rick does the trucking, pickups, deliveries, auction setup and handling for me, so I plan on keeping him very busy for a few more years!
It's been a great ride, and I have been fortunate to have wonderful people working with me. Obviously, we have great consignors and wonderful buyers, or it wouldn't work at all!
So, thank you to all, and I look forward to more good years in this incredible business!