A great sign I was glad to get!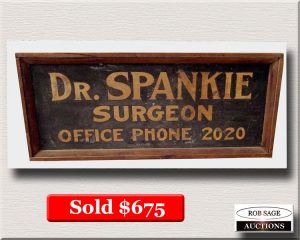 Short story about this sign. Sold in our Jan antique auction. I see 1000's of pieces a year in people's homes, but every so often, there is something that catches my eye, and I get very excited about getting it for the auction!
I walked in the home, saw the sign hanging on the wall, and at first thought it was a reproduction. It was just too good!
The owner assured me it was old, in fact he rented the house from the doctor over 30 years ago, and took the sign with him when he moved.
So, then I thought he wouldn't want to sell it. He told me, yes, he wanted it to go, but he would have to check with his daughter over the weekend.
All weekend long I kept thinking "please don't take the sign!, please don't take the sign!" I showed up Monday morning, and the sign was there, and ready to load into my van. I smiled.
I did some google searching on Dr Spankie and everything checked out. He was a prominent Calgary doctor, and local politician. His timeline coincided with what I thought the age of the sign was.
The consignor then told me, story has it, after he left the house, it was used as a brothel for some time! Now the sign seemed even better!
With old signs, subject matter is everything, and we had a winner with this one.
Sold for $675 plus buyers premium, and I knew it would do well. There are not many pieces that garnered the interest this sign did.
So some lucky buyer now has this sign hanging in his house, and I imagine it gets a lot of attention from everyone who sees it!
It's stuff like this that keeps the business so interesting for me after 22 years.