A Record Antique Auction For Us!

Our Saturday April 7 2018 antique auction was a record sale for us…and I have to admit, it felt good!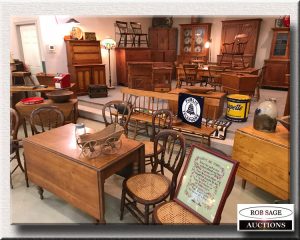 There were a few factors came into play. First and foremost, we had a nice selection of quality items. Most of the pine Canadiana furniture came from the estate of the late Tony Drew, and living estate of Stella Drew, longtime Newmarket Ont residents. The remainder of the sale came from my regular pickers and consignors, and additional items selected from smaller, partial estates. It all came together, to form a very nice auction!
Here is the video with over 100 results from the auction
The furniture prices in general were strong, and some of the strongest buyers, were friends of the family. The family themselves were not buying, since they could have chosen whatever they wanted from the estate, prior to it going to auction. However, when you have quality items selected from a local estate, you draw different types of buyers than you would at a general consignment auction.
Speaking of buyers, let me dispel a common myth. Often when prices are very good, I will hear this comment. "yeah, those people come up from Toronto, and they drive the prices up." In reality, not true. We had a large crowd, and less than 10% came from Toronto, and they were not our biggest buyers. Our auctions draw from all over the province, some driving 2 to 3 hours to the auction. It is not unusual to have people from 60 or 70 different towns and cities attending the auction. In this auction, I had people registering from towns I've never heard of!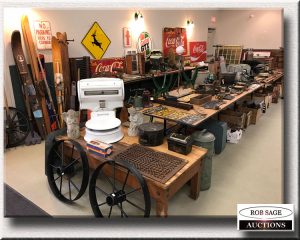 In this particular auction, prices were strong on almost everything. We start the auction at the back of the hall, and for two hours we sell only primitives and country items. We typically sell 200 lots in two hours, so yes, we are moving through it at a pretty good clip! We also achieved record dollar value for that two hour section, so I knew we were going to have a strong sale!
Once we started on the stage furniture and other major pieces, there were times when I had trouble keeping up with the bidding! (and I am not complaining). There was one item, and I can't even remember what it was, but when the bidding started, I had 8 people in on the bidding. I just kept counting until we got down to the final two bidders!
One of the biggest surprises in the auction, was selling a tray lot of 6 cups & saucers for $1000! The tray was under the table, no pictures up on the website, but as luck would have it, two people showed up who recognized the value of what was on that tray. I must admit, myself and none of my staff, knew the value of what was on that tray. We don't pretend to know everything, and this one slipped by us. However, we all know now!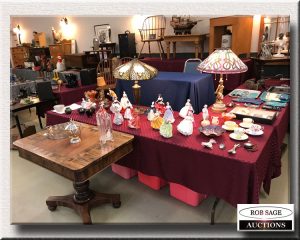 We sold approx.. 650 lots in an 8 hour auction, and packed up very little at the end of the sale. We left the hall one hour after the sale finished, and that was a record short time for us!
I feel very good when we have an auction like this. The sellers were happy, the buyers were happy…and that makes me happy!
So what does it mean going forward? Well, we accept that we had a good day, it is encouraging, but ultimately, it just means we had a good sale, but that auction is now behind us. Does not guarantee all auctions will be that good. Who knows, the next auction could be a struggle from beginning to end. (I hope not, but that is the reality I deal with.)
However, what it does prove, and I think most auctioneers experience this, when you have the right items, you draw the right buyers, and that makes for a good auction!