And now 26 years in the auction business!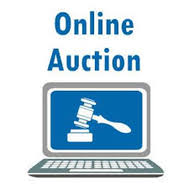 I didn't realize it's been almost 7 months since I updated this blog…. that's how busy this year has been!

Entering my 26th year in the auction business, and prior to that I worked a couple of years with other auctioneers, and prior to that, 10 years operating my antique shop. Total it up, and I've been in the antiques/auction business for 38 years now!
Incredible changes since I first started, especially in the auction business. I could never have imagined I would be doing online auction instead of live auctions, and business would be better than it's ever been!


I am 66 now, so yes, I am eyeing up retirement…or at least semi-retirement! I can't imagine being out of the antique business totally for a few years yet, but I have to slow down and smell the roses.
I am spreading out the auctions to every 6 weeks now instead of monthly, just to get a little more time off.
The online auctions have been wonderful, but extremely time consuming and labour intensive. I put together 500-600 lot auctions, just to keep up with the demand, and it's Rick Osborne helping me with furniture pickups, furniture cleaning and repair, deliveries, etc, ,and my brother in law Gerry Jansen doing the shipping. Rick is my right hand guy, and we are putting together larger sales than we used to do live!
There is a misconception that online auctions are easier. I had one person comment that all we had to do was take pictures, let people bid, and then they come and pickup or we deliver or ship.
That's the bare bones of it, but a 600 lot auction requires approx. 5000 photos. Some lots can require up to 20 photos or more to show all the details. Then I must handle 150-200 bookings after the auction for pickup, delivery and shipping. Of course, the 25-30 consignors per auction have to be paid, and at the same time we start getting ready for the next auction.
I love doing the photos, but for almost two years, it was almost 7 days a week, minimum 70 hours per week. It came to a point where I just had to try and slow down a little bit, and I am doing that. The pandemic forced me into online auctions, and it many ways it was the best thing to happen to my business. However, at my age, I am not trying to grow the business …I am trying to make it smaller!
I know this may sound like I am whining, but I just want to pull back the curtain for you, and shed a little light on the online auction business. If you want to get into the online auction business, I will certainly recommend it. There is plenty of business out there, and I don't think that is going to change anytime soon. However, don't be like me and try and do almost everything yourself… and start a little younger than I did! Lol
So that's it for this blog. Looking forward to seeing what the next year brings, and I will be posting a little more often!
Have fun and enjoy the auctions, live or online.