Antique Collecting. There are times when sentimental value, is priceless.
Here is my story about a little tin…not valuable, but important to me.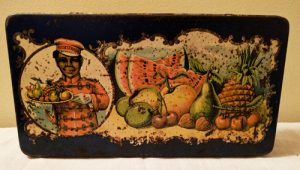 I spotted this tin in an auction last fall, and as soon as I saw it, I knew I had to have it.
To the best of my knowledge, this is not a valuable tin, but when I saw it, memories from my childhood came rushing back to me. Memories I had not thought of in many years.
My late father, was a brakeman for the CPR. He worked the trains for 35 years, and was a second generation railroader.
He usually was out for 24 hours at a time, so Mom packed a pretty substantial lunch/dinner for him. This was the same kind of tin Mom packed his desserts in. There were times he didn't eat all the desserts, so we got the "leftovers". I can see it, and almost smell it, and taste it, all over again.
The tin got pretty battered over the years, and was held together with elastic bands wrapped around it, but that's the way my Dad was. As I am writing this, I am wearing my torn and tattered "winter sweater", which I've worn for the last 16 winters, and won't let it go until it is basically just a rag. I guess the fruit doesn't fall far from the tree.
The point is, this tin has now become priceless to me. I woke up one night and laid in bed thinking of the tin, and the memories associated with it. Memories that had not entered my mind for probably thirty years or more.
This is the wonderful thing about collecting antiques. I can sit in a room and look around at items that bring back memories of my childhood, my grandparents, my parents, my relatives who have long since passed away.
I can't imagine what it would be like to live in a home without items that stimulate the mind, and bring back those memories.
Some people collect for the financial rewards, and if you buy at the right time, and sell at the right time, there can certainly be financial rewards.
However, I think most of us collect, and treasure, the items that bring back those memories. The dollar value of the pieces are irrelevant.
One of the best adages in the antique world is, buy what you like. I will also add, buy what makes you feel good. Buy back those memories.