Antique Store Closing Auction! Saturday July 22 2017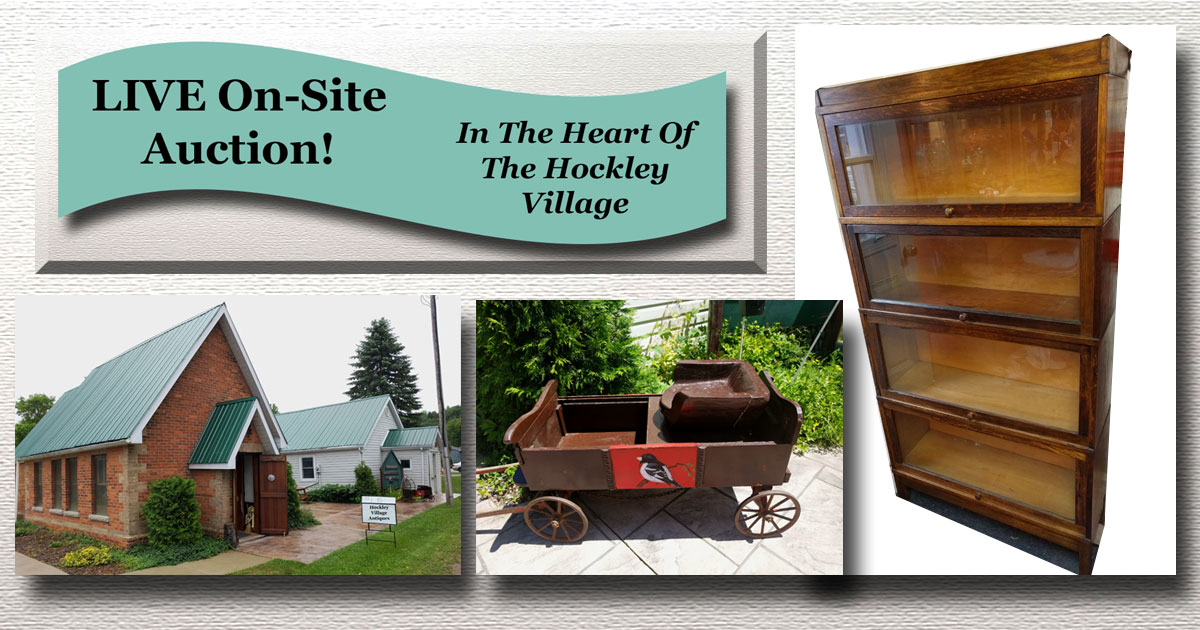 Antique Store Closing Auction!
Hockley Village Antiques And More
994205 Mono Adjala Townline
L9W 2Z2
In The Heart Of Hockley Village!
Saturday July 22 10:00 am
Preview At 9:00



Property Has Been Sold And We Will Offer By Auction, The Contents Of The Store!

UPDATED PHOTO GALLERY WITH FINAL AUCTION PICS CLICK HERE

HERE IS WHAT YOU NEED TO KNOW!




Most of the auction will be held inside the store, so it will present some challenges! It is likely to be very crowded in the store, but we have done everything we can to make as much room as possible.




Weather permitting, we will move as many items as we can outside. However, rain is forecast, so we will be limited to what we can put out. We have a cube van available, so some of the furniture will be placed in the van and sold from there.




There is a huge quantity of small items, and many will be sold on choice, and then sold in lots.




PLEASE BRING YOUR OWN BOXES AND PACKING.




We will sell as much as we can, for as long as we can! (however, realistically we are not going to sell it all). Whatever items you are interested in, we will do everything we can, to offer it for auction.




Our objective is to sell as much as we can for Al and Lynn, and to keep our customers happy as well.




Always a few challenges when you are selling onsite in a limited space, but we are going to do our best, and have fun doing it!




Let's hope the weather forecast changes in our favour!
Large Offering Featuring Antique Furniture, Lighting, Store Fixtures, Primitives, Collectables, Large Offering Of Glass & China, And Much More!



Auction Held Inside & Outside The Store.



PLEASE NOTE: Terms: Cash Or Cheque Only.
NO CREDIT CARD OR INTERAC PAYMENTS For This Auction.
There is a bank machine at the general store adjacent to the property.
10% Buyers Premium
Food Booth & Washrooms.

Auction is subject to deletions & additions.
Let's hope for good weather – This is going to be a fun, interesting auction! Much, much, more than we can advertise!
THE LARGE FURNITURE ITEMS DO NOT HAVE TO BE REMOVED THE DAY OF THE AUCTION. YOU CAN MAKE ARRANGEMENTS WITH THE OWNERS, TO PICK UP PIECES AT A LATER DATE.
WE WILL ALSO HAVE DELIVERY AVAILABLE AT YOUR EXPENSE.
Join Us For An Old Fashioned, LIVE Country Auction, In The Beautiful Hockley Village!