Antiques Labour Day Sept 2 2019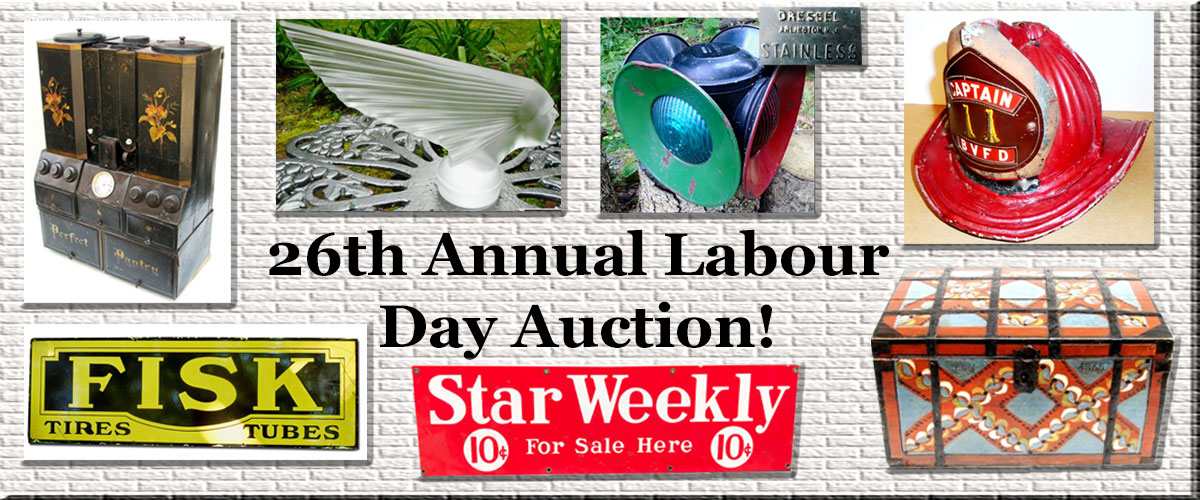 26th Annual Labour Day Auction!

Monday Sept 2 9:30 am
Preview @ 8:30 am
Trisan Centre

25 Dillane Drive , King , L0G 1T0





(Corners Of Highway 27 & Highway 9 Schomberg)



Over 400 Quality Lots Featuring Formal, Mid Century Modern & Country Antique Furnishings Including 2 Pine Flat To Wall Cupboards, Rare "Perfect Pantry" Kitchen Cupboard; Signed, Authentic Vintage "Wassily" ( B3) Chair , Circa 1960's, by Renowned Designer Marcel Breuer; Set of 3 Authentic Erik Buch O.D. 61 Stools for O.D. Mobler Denmark; Variety Of Moorcroft Pottery & Lamps; Quality Selection Of Glass, China, Crystal; Excellent Selection Of Early Electric Lighting Including Signed Handel Desk/Piano Lamp; Original Artwork And Rare Prints; Collection Of German WW2 Memorabilia; Variety Of Bayonets & Swords; Rare Boer War Hand Carved POW Cane; Railway Lanterns; Over 30 Porcelain, Tin & Wooden Signs; Musical Instruments; Clocks Including 1790 Grandfather; Sterling Silver; Signed Soapstone Carvings; Primitives & Country Items; And Much More!

The Photos Tell The Full Story!

FINAL HALL PICS NOW POSTED…SCROLL TO THE BOTTOM OF THE PHOTO GALLERY TO PREVIEW THIS OUTSTANDING OFFERING!






Quality Offering From Beginning To End!





Here Is A 90 Second Video Of The Auction Setup



Here are some selected auction results from this sale






For 25 Years David & Carol Beasley Presented An Outstanding Labour Day Offering.





David & Carol Are Now Enjoying Retirement, And I Am Pleased To Continue With This Very Special Offering.





This Auction Is Now Full. I Am Currently Accepting Consignments For Our Oct 26 Auction, And Nov 9 & 30 Auctions.



Always Looking For Primitives & Country Items, Country Furniture, Sterling Silver, Clocks, Original Artwork, Military Items, Advertising, Antique Toys, Etc
Whatever You Have Please Call Me, And If I Can't Include Your Items In This Auction, I Am Always Happy To Suggest Other Options With You.
Please Contact Me ASAP If You Have Items Your Are Interested In Consigning.




TERMS: 10% Buyers Premium. Cash/Known Cheque/Debit/E-Transfer,Visa/Mastercard . 2% Service Charge On Visa/Mastercard

Good Food Booth. Parking & Seating. Wheelchair Accessible. Delivery Service Available.