Hinton Antiques Saturday Oct 12 2019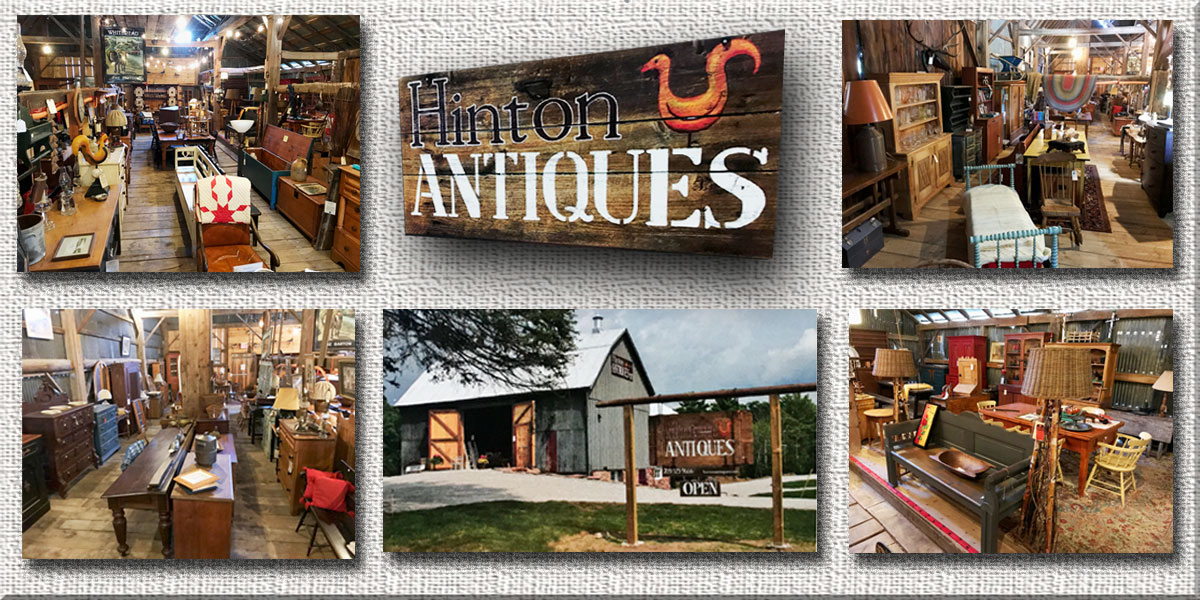 Thanksgiving Weekend On-Site Antique Auction!


Outstanding Downsizing Auction For Hinton Antiques
Washago Ont



Saturday Oct 12 2019
9:30 Am
Preview 8:30 am

You can also preview Friday Oct 11 From 11:00 am-8:00 Pm

At That Time, You Can Place Advance Bids If You Are Unable To Attend The Auction.

After 48 Years Of Antiquing, Steve & Wendy Hinton, Are Downsizing.


The Property Is For Sale, And We Will Be Offering By Auction, An Outstanding Inventory Of Canadiana Furniture & Accessories!





Over 200 Pieces Of Furniture Including Corner Cupboards, Blanket Boxes, Harvest & Work Tables, Flat To Wall Cupboards, Armoires & Wardrobes, Bonnet Chests, Dressers, Buffets, Coffee Tables, Early Chairs, Washstands, Benches & Settles, Dry Sinks, Desks, Rocking Chairs, Etc, PLUS Early Lighting, Butter Bowls, Snow Shoes, Decoys, Crocks, Pressed Glass, Folk Art Carvings Including Michel Fortin, Emile Bluteau & Les Labours, Clocks, Pottery Bowls, And Much More!

PLEASE NOTE: The Blue Diamond Point Cupboard, Previously Advertised, Is No Longer Available For This Auction.

Most Of The Furniture Has Been Expertly Refinished & Restored, With Provenance Provided.



Here Is A Two Minute Video Preview Of This Outstanding Offering!



Hinton Antiques was founded in 1972 by Steve and Wendy Hinton. Steve and Wendy have long been considered among the most reputable antique dealers in the country. They specialize in pre-confederation Canadian Country furniture, Hinton Antiques sells, refinishes and restores what they consider to be pieces of Canadian history.



Cash, Debit, Mastercard & Visa. 10% Buyers Premium. On-Site Food Booth, & Washrooms.
Delivery Service Available.
Items Can Be Removed Day Of Auction, Or You Can Pick Up Monday & Tuesday, 10:00 Am-5:00 Pm

AUCTIONEER'S COMMENTS: This is the largest auction of quality country furniture and accessories, we've had the privilege of offering. The photos speak for themselves.
This is a stand up auction, on site in the barn. It is going to be crowded, but we will present the items to the best of our ability. We have created as much room as possible, by re-arranging much of the inventory. We will not be able to sell all the contents of the barn, but our mandate is to sell as much as possible, in the time we have!
This is a rare opportunity for you to purchase this quality, and quantity, in an old fashioned, country auction!


Directions: 8203 County Road 169 Washago, ON L0K 2B0 just north of Orillia. More specifically, at the "T" intersection where the Rama Road (county road 44) meets County Road 169 — 800 metres from highway 11 at the Washago exit.





Discover The Fun & Excitement Of Our LIVE, Old Fashioned, Country Auctions!