On The Move Again…And It's All Good!

10 months, 9 online auctions, and now we move again!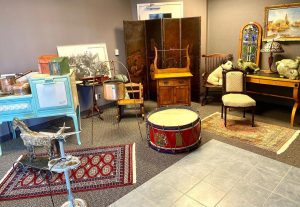 Our May online auction will be from our new location, 320 Bayfield Street in The Bayfield Mall, Barrie Ont.
Nice facilities that more accurately reflect the quality of our online auctions, and I am extremely excited about the move!
We are in a mall but will not be a retail operation. We have our own entrance to the parking lot, and we keep our own hours. Previous tenant was the Oxford Learning Centre, so it never has been retail.
Two months ago, I walked through the unit with my associate Rick Osborne, and we both agreed, this is it! Everything we need and want so let's go for it!
In July 2020 I did my first online auction out of two storage lockers. In October we moved to a large warehouse owned by a longtime friend of mine. The building was rough, and we knew it would be temporary, but it gave us the room to dramatically increase the size and quality of the online auctions.
We got a few laughs considering what the previous tenants used the building for. ( adult swingers club). Many mirrors and purple and black walls, but it served our purpose!
The property is now sold, and after a very cold winter, with minimal heat and a leaking roof, I am more than ready to make the move!
The online auctions have exploded for us. Terrific prices, large numbers of registered bidders each auction, and this has led to large amount of quality items coming my way. Honestly, it's keeping me working 7 days a week just to keep up, but in these difficult times, I consider myself fortunate to have that problem. I will deal with the work load, and find an easier way to handle it all.
So, I thank my many long time customers who have come over to the online auctions, and of course all the new customers who have discovered us. I thank my many loyal consignors who supported me in this new venture. Without them, I don't have an auction!
This year marks my 25th anniversary doing auctions. 24 years of live auctions, and now we move into another stage with the online auctions. Thanks to everyone and keep following us on the journey ahead!
Rob