Realistic Expectations!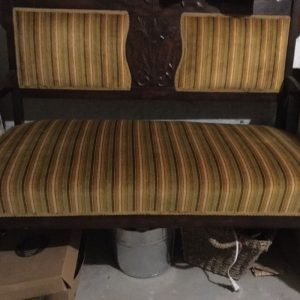 I found this piece on an on-line buy/sell site. Asking $1000 for it. In my opinion, never going to happen. Not worth $1000 now, and they were never worth $1000. At the peak of the market, maybe $250 to $300 at an auction, but now I would hesitate to even include it in an auction. Good day, maybe $50…bad day, might not be able to sell it!
So why mention it? Well, I think it shows the folly of seeing an ASKING price, and then thinking your piece, should bring the same money. People can ask anything they want, and maybe, just maybe, they will get lucky. In this case, it would be very, very, very lucky. If they sell this for $1000…go out an buy a lottery ticket, because they are on a roll!
The antique furniture market has changed the last few years, and when I am meeting with potential consignors, I have to be very honest, and prepare them for the current market.
If someone told me they had a piece like the one pictured here, and wanted $1000 for it, I would refuse to put it in the auction.
I quote a low price, and hope we do a little better, but I make sure consignors are realistic about the current antique furniture market.
Here is an excerpt from a recent email. "Hi Rob. Thank you so very much for the cheque of $795. I honestly didn't think I would receive even half that amount when you were talking such low figures on items. I am very pleased and thank you for helping us out. Take care and I will never hesitate to recommend you to anyone who has antiques needing a new home."
So that's how it works. Be honest, prepare the consignor, and as I always say, "the more you get, the more I get, so I will do the best I can for you!"