Still Loving This Business After 34 Years!

I've been in the antique/auction business for 34 years now, and 22 of those years doing strictly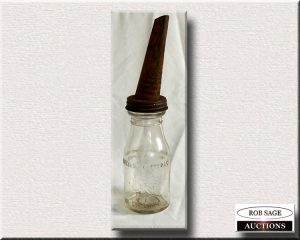 auctions. I am just as excited about the business now, as I was when I first started!
The reason is simple. I never know what is coming into the auction, and I still get excited when a good piece arrives.
Case in point, this oil bottle. Most people aren't into oil bottles, and most would not give this piece a second look. However, when one of my regular consignors told me he wanted to put this through the Saturday May 12 auction, my heart beat just a little faster!
If you are into oil bottles…your heart is probably beating a little faster too!
This is a good bottle. Recently found one on-line that sold for $880 in an Ontario auction, in Feb of this year.
Why? Well here is a brief history of the company.
The McColl-Frontenac Oil Company was an oil company based in Canada. It was created in 1927 as a result of a merger between two companies, McColl Brothers, founded by John McColl in 1873, and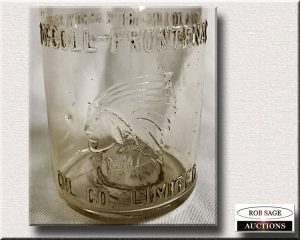 Frontenac Oil Refineries. Shares in the new company were acquired by the Texas Company, and by 1941 it had acquired a majority ownership position of McColl-Frontenac. At that time, the oil company was rebranded as Texaco. McColl-Frontenac was known for its branding of its oil and products as "Red Indian". In 1989, Texaco Canada was acquired by Imperial Oil.
McColl-Frontenac and anything "Red Indian" are super hot right now. A couple of years ago we sold a very good Red Indian porcelain sign for $2300.00
This oil bottle is going to garner a lot of attention. That's what excites me, and that's what keeps me loving this business!
As the old saying goes, "Choose a job you love, and you will never have to work a day in your life." Confucius