This is what makes selling antiques special.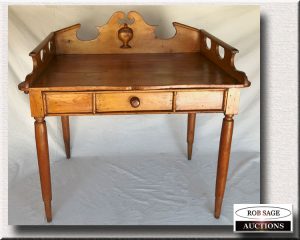 This past week, we removed the antique contents from a Newmarket estate. Nice load of Canadiana pine furniture, and next week I go back to pick up the artwork and small pieces. Auction will be April 7 2018. (click for auction details)
This was a simple wood frame house, that dates back 200 years! Hard to believe, but the family has the documentation on the house and property.
Their father passed away last fall, and their mother is in long term care, so the property will have to be sold.
The parents started buying Canadiana furniture in the 1960's, and the house was furnished with it. This was the furniture the kids grew up with, in the home they grew up in. In all likelihood the house will be knocked down, and the property will be developed commercially. However, the furnishings will survive.

Along with Rick and Charlie, I loaded the trucks and then unloaded at my storage. The following day I spent cleaning, and doing the photos for the website.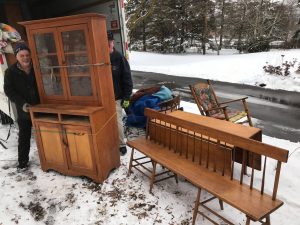 The furniture had been neglected a little, but for the most part, it just needed a little cleaning. This gave me the opportunity to closely look at each piece. It gave me a chance to have a feeling for what these people collected, and the quality and construction of each piece. I felt like the pieces were coming back to life! It just took a little time and a little effort.
I realized this was the beginning of another chapter in the history of these pieces. After decades in one home, they would pass through my auction, and then perhaps spend decades more in homes throughout this province.
The end was not coming for this pieces, it would just be another phase. 50 or 100 years from now, they may still be in use. Perhaps longer.
They served their time and purpose for one family, and will now move to the next.
I am just glad I had a role to play in this.