Saturday Sept 29 2018 Antique Auction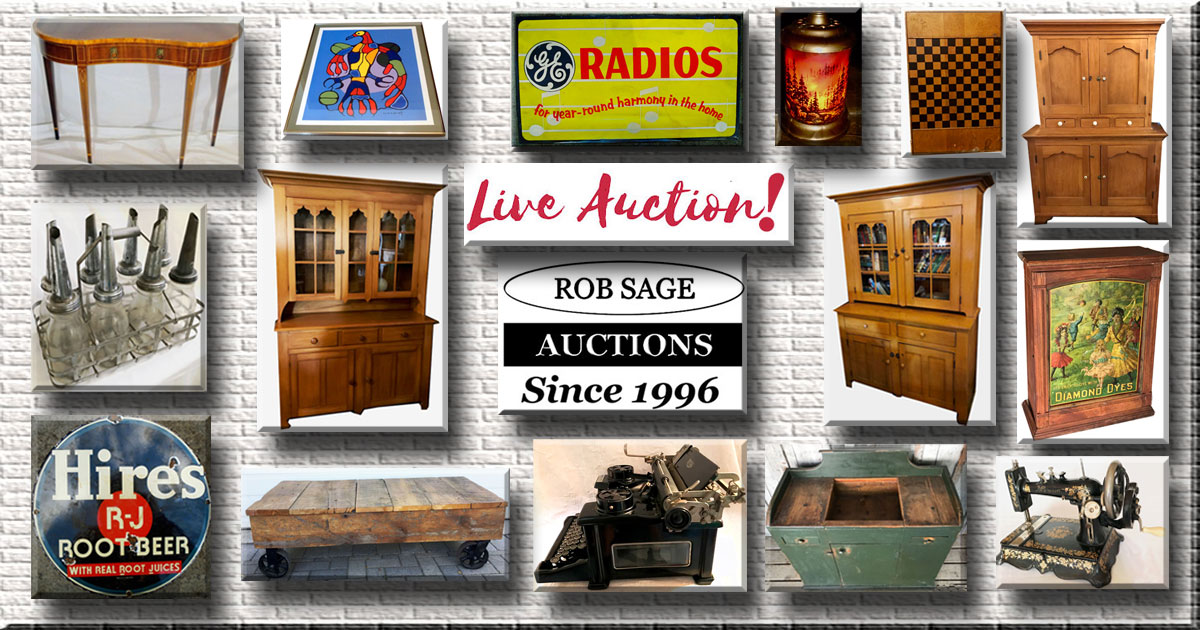 LIVE Country Antique Auction!
Saturday Sept 29 10:00 am
Preview @ 9:00 am
Pottageville Community Centre

15980 7th concession Pottageville On
log 1T0
Large Offering Featuring Antique Country & Formal Furniture, Primitives & Country Décor Items, Original Artwork & Prints, Glass, China, Lighting, Coca Cola Collectables, Oil Bottles, Etc. With Many Unadvertised Pieces From Our Storage!
Over 600 Lots!



FINAL HALL PICS NOW POSTED!
Scroll to the bottom of the gallery to check out the auction!




Pick With The Pickers…Deal With The Dealers…Learn From The Collectors…All Part Of The Experience Of A LIVE, Country Auction!

Here is a video of the Sept 29 auction

TERMS: 10% Buyers Premium
Cash, Known Cheque Or Debit?.
WE ARE STILL HAVING PROBLEMS WITH THE PHONE LINE, AND ARE HOPING TO HAVE IT RESOLVED BY AUCTION DAY, BUT TO BE ON THE SAFE SIDE, PLEASE BRING YOUR CHEQUE BOOK IN CASE WE ARE UNABLE TO PROCESS DEBIT. AS OF FRIDAY NIGHT, IT LOOKS LIKE THE PROBLEM HAS STILL NOT BEEN FIXED…BUT WE ARE HOPING!!!

Good Food Booth. Parking & Seating. Air Conditioned, Wheelchair Accessible.
PLEASE NOTE: Additional Parking On The West Side Of The Road Only.
All Items To Be Removed Day Of Auction.
We DO Have A Delivery Service Available At Your Expense.
DIRECTIONS: Highway 400 To Exit 52 Lloydtown-Aurora Rd. ( First Exit South Of Highway 9) Go West 3 Kms To 7th Concession And Then South 1 Km To Hall. Or Highway 27 To Lloydtown-Aurora Rd And East 4 kms To 7th Concession
Discover The Fun And Excitement Of Our LIVE Old Fashioned, Country Auctions!
If you want a 60 second, superfast video preview, check this out!

THIS AUCTION IS NOW FULL THANK YOU.
I AM NOW ACCEPTING ANTIQUE CONSIGNMENTS FOR OUR OCT 27 HARVEST AUCTION.
Always Looking For Primitives & Country Items, Country Furniture, Sterling Silver, Clocks, Original Artwork, Advertising, Antique Toys, Etc

Whatever You Have Please Call Me, And If I Can't Include Your Items In Our Auctions, I Am Always Happy To Suggest Other Options With You.



Here Is A Short Video Of Our Aug 25 Auction

Partial Listing For Sept 29 2018
Partial Furniture Listing Includes: two piece, 13 glazed pane flat to wall cupboard; painted pine dry sink; two piece Quebec pine "Deux Corps" cupboard; two piece pine flat to wall cupboard with 12 glazed panes; three drawer pine chest; Eastlake style washstand; early child's rocker; early child's commode chair; cast iron side school desk; pine dovetailed blanket box; Duncan Phyfe style games table; banded mahogany console/hall table; stenciled commode chair; 4 drawer pine chest; variety of wicker pieces; pine slant top desk with turned legs; Victorian vanity; Jenny Lind style bed; Quebec church candle stick; primitive pine one drawer slant top desk; 9 piece oak dining room suite; 8' pine bench; set of 4 English oak chairs; pine open gallery back washstand; Duncan Phyfe style tilt top coffee table; Queen Ann style inlaid coffee table; oval Victorian parlor table with stretcher base; nesting tables; cedar chest with gallery top; walnut sofa table; plus a variety of assorted small tables; boxes; "as found" pieces etc.
Everything Else Including: Victorian brass bass banquet lamp with hand painted shade; assorted brass and copper cooking pots; Sport Selected illuminated lotto sign; large Kool Aid man promotional figure; vintage Royal typewriter; wooden barrel planters; race car banners; Banner rocker ash sifter; variety of tin and porcelain signs; 5 gallon oil cans; Royal Doulton figurines; Shelley cup and saucer; Delft platter; Moorcroft bowl; Moorcroft vase and trinket box; assorted pressed glass; hand painted china; BT standard wooden step ladder; oil and automotive tins; hay fork; Toronto Sun and Toronto Star newspaper stands; counter scales; crokinole board; snowshoes; fire extinguishers; early electric and coal oil lighting; cast lawn sprinkler; automotive hood ornaments; radio tubes; enamel face wall clock; Kenwood Chef mixer; Ontario hanging wall map; vintage jig saw puzzle; wicker trimmer; cups and saucers; cast iron pots; selection of crocks; copper boilers; quilts; mantle clock; wooden bobbins and spools; mantle clock; cuckoo clock; Asian lacquer pieces; white ironstone pieces; Northern Electric candlestick style phone; Quebec games board; See-Me toys; authentic Roman knife in frame; collection of glass oil bottles; Shell oil bottles; Castrol oil bottle; Norval Morrisseau print; David Morrisseau print; Victorian stenciled hand crank sewing machine; soapstones; Mary Hoyer doll; doll trunk; German bisque head dolls; Diamond Dyes cabinet; cast iron piston water pump on stand; implement parts; early taking timer clock made by Benzig,Germany; Italian accordion; factory cart with cast iron wheels; Sanyo transistor radio in original box; fanning mill shute; buggy seat; license plates; commercial cheese cutter. Plaque reads " International Business Machines Toronto Limited Ont Patd Dec 1 1901″; stained and leaded glass; 1951 Econolite motion lamp; "SVE Picturol Model AK" slide projector, working..case, manual, spare bulb; farm transit in wooden box; Charlie Chaplin cast iron door stop; carpenter's box; toy sewing machine; Consolidated Glass Phoenix table lamp; wicker floor lamp; bag cart; cast iron boot scrapes; cast iron door stop; Dazey glass butter churn; cheese round; milk and cream cans; slag glass hanging lite shades; kerosene heater; hand painted wooden sign; rare 1910 Smith and Towers,Liverpool "Anvil Caramels " tin; Pathfinders Spring Water in case with original paper labels; brass music stand; enamel service station lamp fixture; table top grinders; sleighs; signed paddles; 19th C French Ship Canon model; Victorian die cut cards and calendars; c1900 ring toss game; slate; Pascal candle stick; copper wall water dispenser; wood planes; Aladdin heater in original box; metal Tonka toys; wrought iron planters; printer's trays; signed wooden boxes; wooden wringer; cast brass gauges; wooden boat rudder on stand; small toboggans; key wind tin train; blow torches; Elvis bubble gum cards; barn lanterns; and much more!